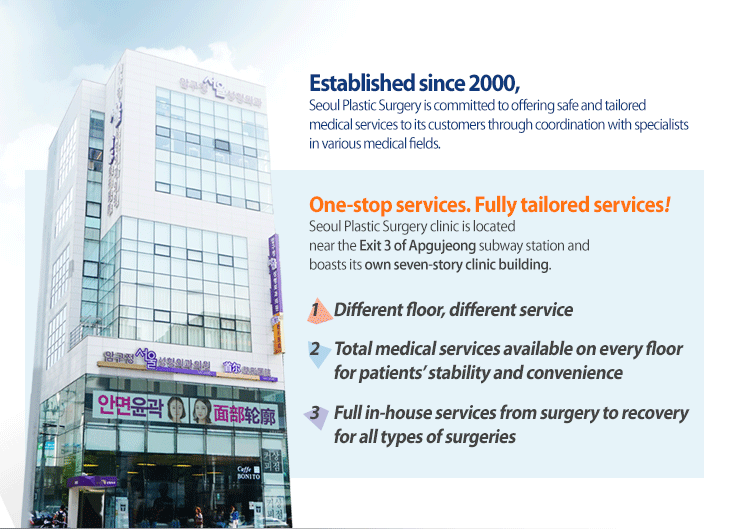 Specialists in each field for added peace of mind Since its opening, Apgujeong Seoul Plastic Surgery has been working hard to achieve the highest standards of surgery and safety by working closely with hospitals and employing specialists in oculoplastic surgery, rhinoplasty, lower blepharoplasty, fat graft, body and face contouring surgery, and thoracoplasty.
Full-time anesthesia specialist Apgujeong Seoul Plastic Surgery employs full-time anesthesia specialists who are present at every surgical procedure. They ensure that patients are anesthetized according to their conditions allowing the surgeons to focus on surgery resulting in increased safety and better results.
| | |
| --- | --- |
| Pain management system A self pain controller system is provided to patients who are sensitive to pain according to the anesthesia specialistí»s prescription. Nurses are also stationed around the clock to monitor patients. | |
| | |
| --- | --- |
| Online service From homepages, mini homepages, and community sites, there is access to virtual consulting to better understand surgery. | |
Safe and reliable medical service Rhinoplasty in cooperation with ENT doctors, thoracoplasty after breast cancer diagnosis, and doctorsí» considerate care from consulting to post-surgery treatment will guarantee safer and a more reliable patient-oriented medical service.